The Body Tjak (pronounced "chock") Projects are dynamic, multi-disciplinary, cross-cultural performances conceived and created by American percussionist/rhythm dancer and body musician Keith Terry, and Indonesian dancer/choreographer and kecak ("keh-chock") expert I Wayan Dibia.
BODY TJAK 13 – The fourth Body Tjak is a collaboration between our Corposonic, Brazil's Barbatuques and Indonesia's Çudamani – that premiered at the 6th International Body Music Festival November 5-10, 2013; and will be performed at the 7th IBMF BALI July, 2015. Combining East and West, North and South, contemporary and traditional, BODY TJAK employs a total use of the artistic body through movement, dance, rhythm, sound and voice.
The 6th International Body Music Festival Opened with a Free Spectacle, Downtown Oakland, featuring a new collaboration between vertical dance group Bandaloop, and a Body Music Orchestra anchored by Body Tjak 13 artists, with other Festival artists. Body Tjak 13 was be performed in its entirety on the Friday night SFJAZZ concert, and movements from the collaboration were presented throughout the week.
2002 Body Tjak/Los Angeles | 1999 Body Tjak/The Celebration | 1990 Body Tjak
About the Body Tjak Project
The Body Tjak Project is an on-going, long-term US/Indonesian collaboration produced by Crosspulse. In 1980 Keith Terry and I Wayan Dibia began developing a contemporary hybrid form that integrates body music and kecak.
Body music explores rhythm while playing the sounds the body can make via clapping of hands, rubbing of palms, finger-pops, feet stamps, singing, slapping the butt and belly, popping the cheek, whomping the chest, skipping and sliding, babbling and coughing.
Kecak (sometimes called Monkey Chant in the west) was originally a part of Bali's "sanghyang" trance dance, and is commonly used to depict the story of the monkey army in the Hindu epic, the Ramayana. Its high-energy, interlocking vocal patterns, ranging from primordial animal gutturals to ethereal melodies of exquisite beauty and sophistication, have inspired some of Bali's most innovative contemporary choreography.
Terry and Dibia weave body music and kecak through their imaginations, combining and extending these contemporary and traditional forms into a new artistic expression that blends, bends and stretches aesthetic sensibilities. This is the foundation for the work, which in its fullest expression includes percussive and melodic instruments, shadow puppetry, masks, dance and more.
Body Tjak/Los Angeles
This intercultural-interdisciplinary-interdepartmental production took place at the University of California in Los Angeles (UCLA) in May 2002. BODY TJAK / LOS ANGELES was produced by the Departments of World Arts and Cultures (WAC) and Theater, in association with Crosspulse.
Developed in WAC's BODY TJAK course and Theater's PROBLEMS IN PERFORMANCE: BALINESE KECAK, this intercultural-interdisciplinary-interdepartmental production featured students from the Departments of World Arts and Cultures, Theater, Music and Ethnomusicology. In addition to body music and kecak, the piece incorporated metal percussion instruments, gongs, and boom whackers; plus music, dance, theater and mask work contributed by other classes including: Flamenco and palmas (Liliana de Leon-Torsiello), jaipongan (Sri Susilowati), rhythm and tap dance (Lynn Dally), story adaptation and mask work (Pat Harter) and Balinese gamelan (Nyoman Wenten). The production was performed outdoors May 16 and 17, 2002 at the Fowler Amphitheater on the UCLA campus, and May 18, 2pm at the Santa Monica Festival.
Body Tjak/The Celebration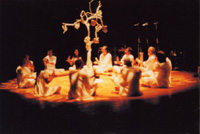 In 1999, BODY TJAK/THE CELEBRATION was performed at the Bali Arts Festival and in the San Francisco Bay Area. The cast featured twelve musicians and dancers (6 North and South Americans and 6 from the Indonesian islands of Bali, Sumatra and Sunda) and combined body music, kecak, rhythm dance, saman, drums, flutes, gongs, strings, rocks, bamboo, banjo, water and voice.
The project produced a performance video and CD soundtrack recording. The Body Tjak/The Celebration Performance video won the Best of Festival – Music Video Award at the Berkeley Video & Film Festival 2002.
BODY TJAK/THE CELEBRATION as directed by Keith Terry and I Wayan Dibia; created and performed by: Metrizal Bin Afrizal, Dewa Putu Bratha, Edgardo Cambón, I Wayan Dibia, Tacuma King, Evie Ladin, Susas Rita Loravianti, Robert Moses, Kelly Takunda Orphan, Endang Rukandi, Ida Ayu Arya Satyani and Keith Terry.
Production credits include: Assistant Director Kimi Okada, Lighting Designer David K.H. Elliott, Sound Designer Kevin McKereghan, Graphic Designer Kris Kargo, Metal Percussion Instrument Maker Pete Engelhart, Bamboo Percussion Instrument Maker I Nyoman Rembang, Mask Maker Cokorda Raka Tisnu, and Shadow Consultant Larry Reed.
Body Tjak 1990
The first BODY TJAK production took place in 1990. This ambitious collaboration of twelve Balinese and twelve US artists toured in the United States, Bali and Java, presenting performances for adults and children, educational programs, plus video and television projects in both countries.
BODY TJAK was directed by Keith Terry and I Wayan Dibia; performed by I Gusti Lanang Oka Ardika, Regina Bustillos, Richard Chen See, Cornell Coley, I Ketut Darsana, Sally Davis, I Wayan Dibia, Wendy Fink, Ni Nyoman Dyah Karuni, Janet Koike, Claire Leedy, Jesse Manno, Ron McBee, Mark Mendonca, I Gede Oka Surya Negara, Cok Istri Putra, I Made Suarjana, Ida Ayu Suarningsih, I Gusti made Sudiarta, Kezia Tenenbaum, Keith Terry, Ida Ayu Trisnawati, Komang Sri Wahyuni, and I Nyoman Windha.
Production credits include: Associate Director Kimi Okada, Costume and Set Designer Peggy Snider, Puppet Maker Martha Banyas, Lighting Designer David K.H. Elliott, Projection Designer Larry Reed, Writer Andrea Snow, Metal Percussion Instrument Maker Pete Engelhart, Bamboo Instrument Maker I Nyoman Rembang, Gong Maker Pande Made Gableran, Mask Maker I.B. Anom, and Graphic Designer Kris Kargo.