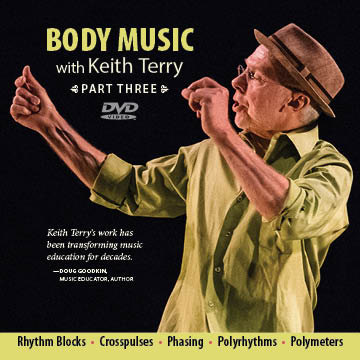 Body Music, Part 3 with Keith Terry Instructional DVD
(2014) CPVD007 $30
Rhythm Blocks • Crosspulses • Phasing • Polyrhythms • Polymeters
Body Music: Part Three introduces more advanced technique exercises, an in-depth look at crosspulses 3 over 2 and 6 over 4, and polyrhythms based on those crosspulses.
With Nuria Bowart, Bryan Dyer and Evie Ladin.
Includes Footage of Keith Terry's ensemble Corposonic in performance.
Running Time: 100 minutes
CPVD007
© Keith Terry, 2014
Teachers: See website forum where you can share your original applications of Body Music to a range of academic subjects.
Mail Order Purchases:
Send a check or money order to:
Crosspulse
P.O. Box 3388
Oakland, CA 94609
For more information,
contact us
.